I got this award from the author of the blog
Windmill on the Hill
.
Thanks you dear sir, for yet another award from you. I will certainly try to raise the bar and up the ante, so that I can at least live up to the expectations and not disappoint anyone (especially myself).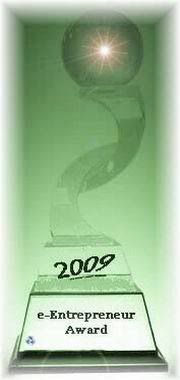 Purpose and Rules of The e-Entrepreneur Blog Award
The purpose of The e-Entrepreneur Blog Award is not determined by the success rate of the blogger's e-Commerce. Rather, this Award is bestowed on bloggers who have taken the initiative to start and to manage an enterprise of their own through their Blog.
It also considers the originality of their product by design, beauty and functionality.
Besides granting recognition for the blogger's entrepreneurial effort, it is also meant to encourage the blogger towards achieving higher and better standards with his creations.